Impact Report 2022: What we've done to reduce our impact on the planet
As designers we understand that we have a responsibility to create products and experiences that contribute in a positive way to the world we live in.
From the outset we have been led by our guiding principles:
1. We aim to create delight and wonder in positive climate choices, making sustainable options joyful as well as better for the future of humankind.
2. We improve the user experience, making sustainable choices convenient, and not compromising on the usefulness of the product or service.
3. Our very early stage R&D with users can exponentially affect the sustainability of a product.
The European Commission's Science Hub
estimates that "80% of all product-related environmental impacts are determined during the design phase of a product."
4. Our natural resourcefulness means that we design using existing technology wherever possible, only recommending new products or services where there is a need.
Throughout 2022 we have been looking at ways to reduce our carbon footprint and offset what we can't reduce, rather than continuing with business as usual.
We're proud to share that since 2019 we have reduced our carbon footprint from 24.2 tonnes of C02e to 8.8 tonnes of C02e in 2021. To offset our carbon footprint prior to 2019, we are working with Ecologi - supporting a broad range of projects that are reducing or avoiding greenhouse gas emissions. You can see our growing forest
here
.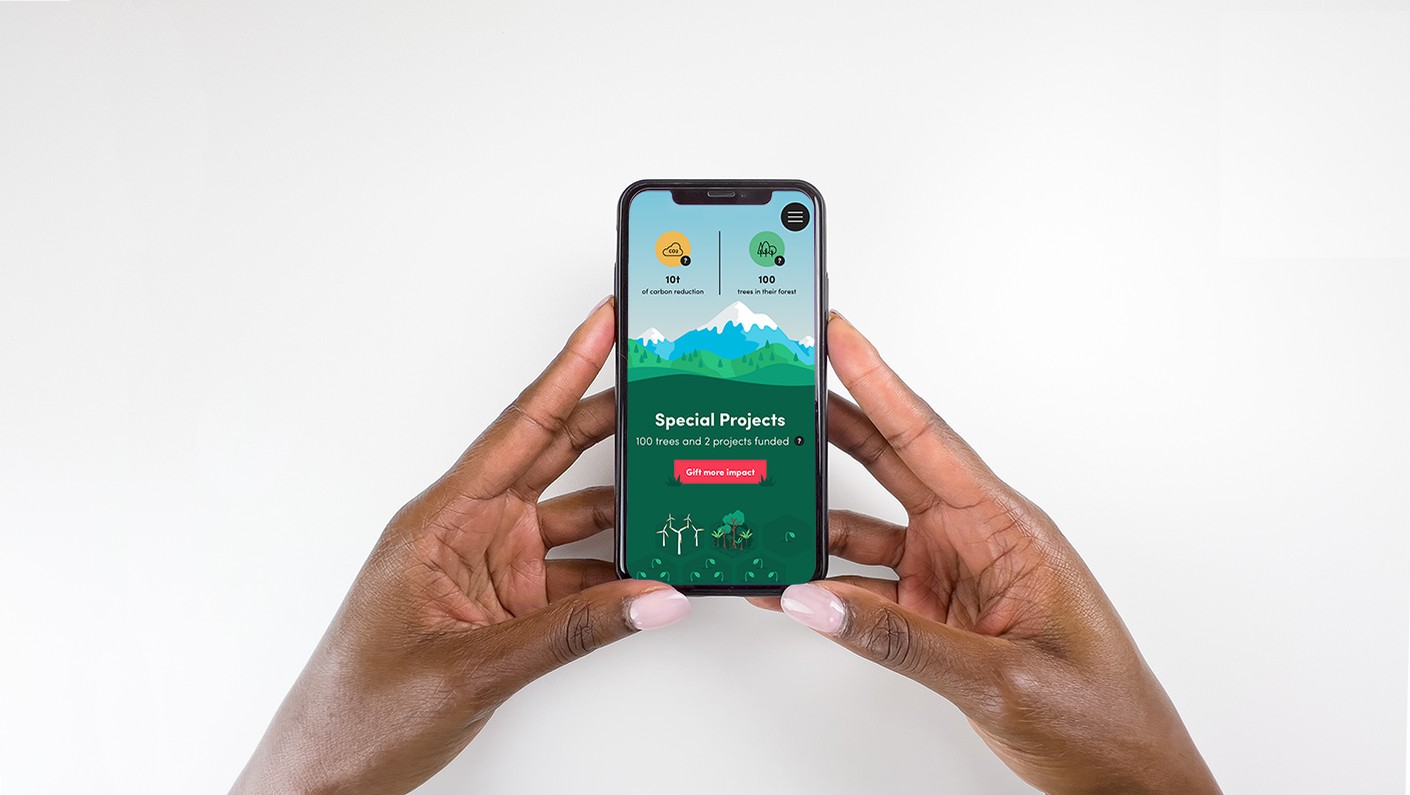 Our co-founder Adrian is now an Advisory Board Member for the
UK Design Innovation Network
helping to deliver the UK Government's innovation strategy. Our co-founder Clara was a guest speaker at the RCA on a talk titled 'Social Sustainability: the Role of Inclusive Design' and has participated in two further talks about designing for a better future at the Saïd Business School, Oxford University. Clara has also been working hard to create a Vocal Accessibility Standards in collaboration with British Standards Institute, the Helen Hamlyn Research Centre and Tata Consultancy Services ltd.
In addition, Clara and Adrian have dedicated 80 hours of pro bono work in 2022, consulting for the Terra Carta Design Lab. Founded in 2021 by the Royal College of Art, in conjunction with King Charles III and Sir Jony Ive, Chancellor of the RCA and former Chief Design Officer at Apple, the
Terra Carta Design Lab
is an initiative that has invited some of the world's most talented design students to design high-impact, low-cost solutions for Nature, People and Planet.
As part of our human-centred approach, we are a part of the
Living Wage Foundation
to ensure our staff are paid fairly. Our employees now get a dedicated training budget each year as well as a wellness budget for anything from meditation apps to gym membership. We've also improved our pension offering, annual leave allowance and flexible/hybrid working arrangements, and have introduced a cycle to work scheme.
All employees have also been invited to partake in two online training opportunities as part of our B Corp application -
Equality, Diversity and Inclusion 2022 by ACAS
and
Carbon Literacy by The Carbon Literacy Project
.
Special Projects is also a part of
Design Declares
, a growing movement for designers to commit to harnessing the tools of our industry to reimagine, rebuild and heal our world, and
Design Can
, a campaign, community and active resource platform calling for an inclusive and representative creative industry.
We have donated a total of £1,000 to a range of charities this year and from 2023 onwards, in addition to our annual company donation, will be gifting £100 to each employee to donate to a charity of their choice.
We'll be setting some Science Based Targets and planning our route to becoming a Net Zero studio in the next year.