Brief
Contribute ideas for the NHS Covid-19 contact tracing app
Solution
A series of recommendations which focus on the emotional user experience.
Related Projects
Download
High quality images

Keywords
User Experience, User Interface, Calm Technology, Humanising Technology, Service Design, Digital Wellbeing
Covid-19 App Ideas
Ideas for a more human contact tracing app

We've brainstormed a series of ideas for the NHS Covid-19 contact tracing app which will soon be rolled out across UK.

We've focussed on the user experience as you interact with the app at a time full of uncertainty, emotions and anxiety. We wanted to provide helpful suggestions to help nudge the app to make it more:

- Calm
- Human
- Empathetic
- Delightful
- Community focussed

For the app to function at least 60% of the population need to install and actively use it, so it is essential that it is cherished and adopted by a majority of the population.

With regards to privacy and transparency we are assuming that these apps are doing what they promise and nothing more.

We applaud the effort put in to the current app and hope these thoughts can contribute in any way to future versions.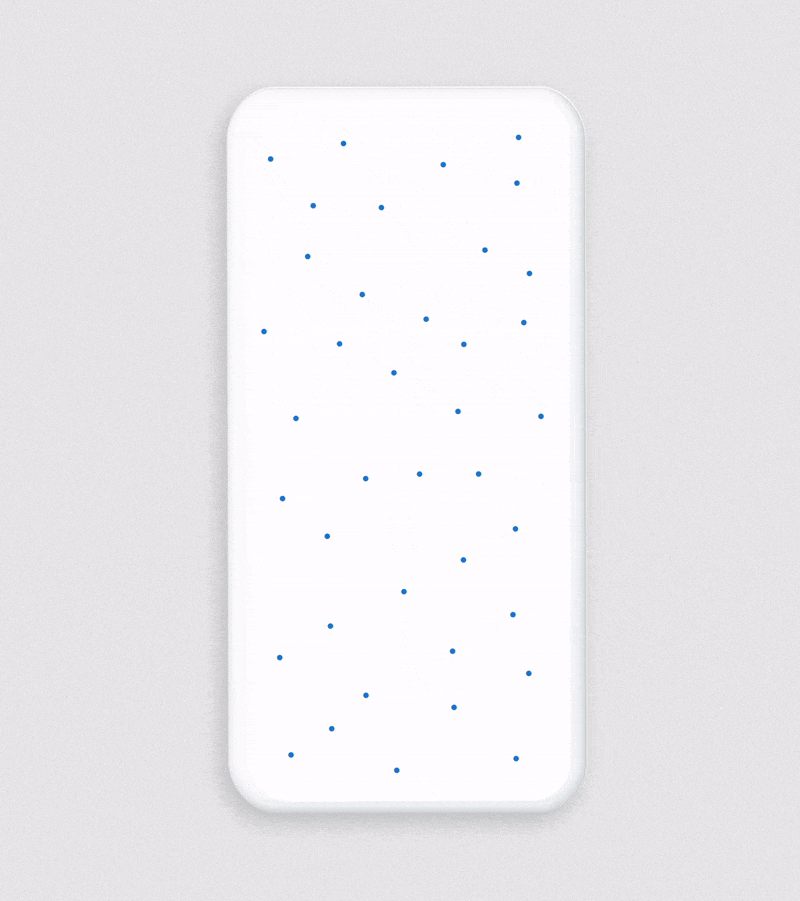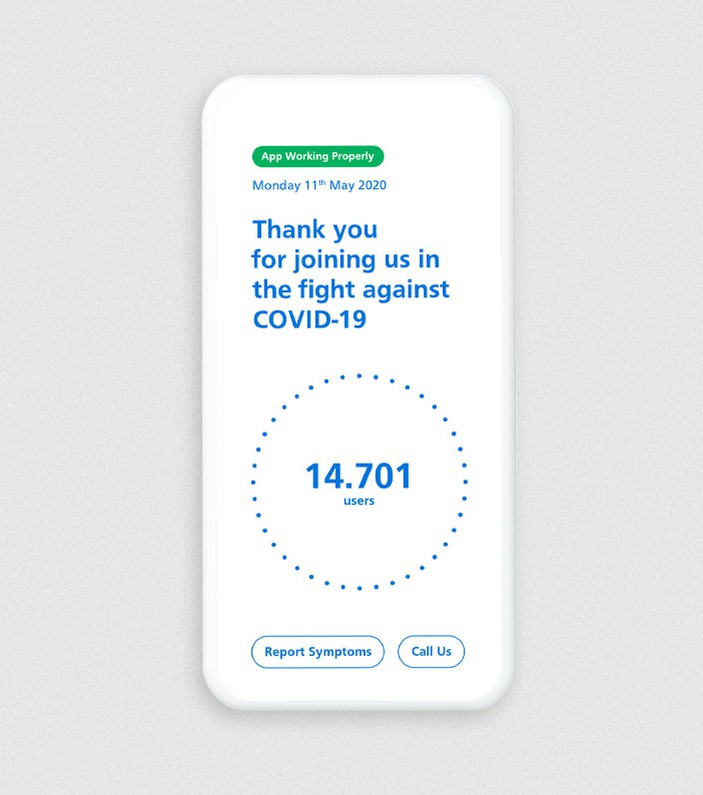 Force field

A loading animation reminds you that you are part of a national protective shield made up of many millions of people helping each day.

The language used in the media "Track and Trace" feels like being hunted and raises privacy concerns, we think shielding feels more collaborative.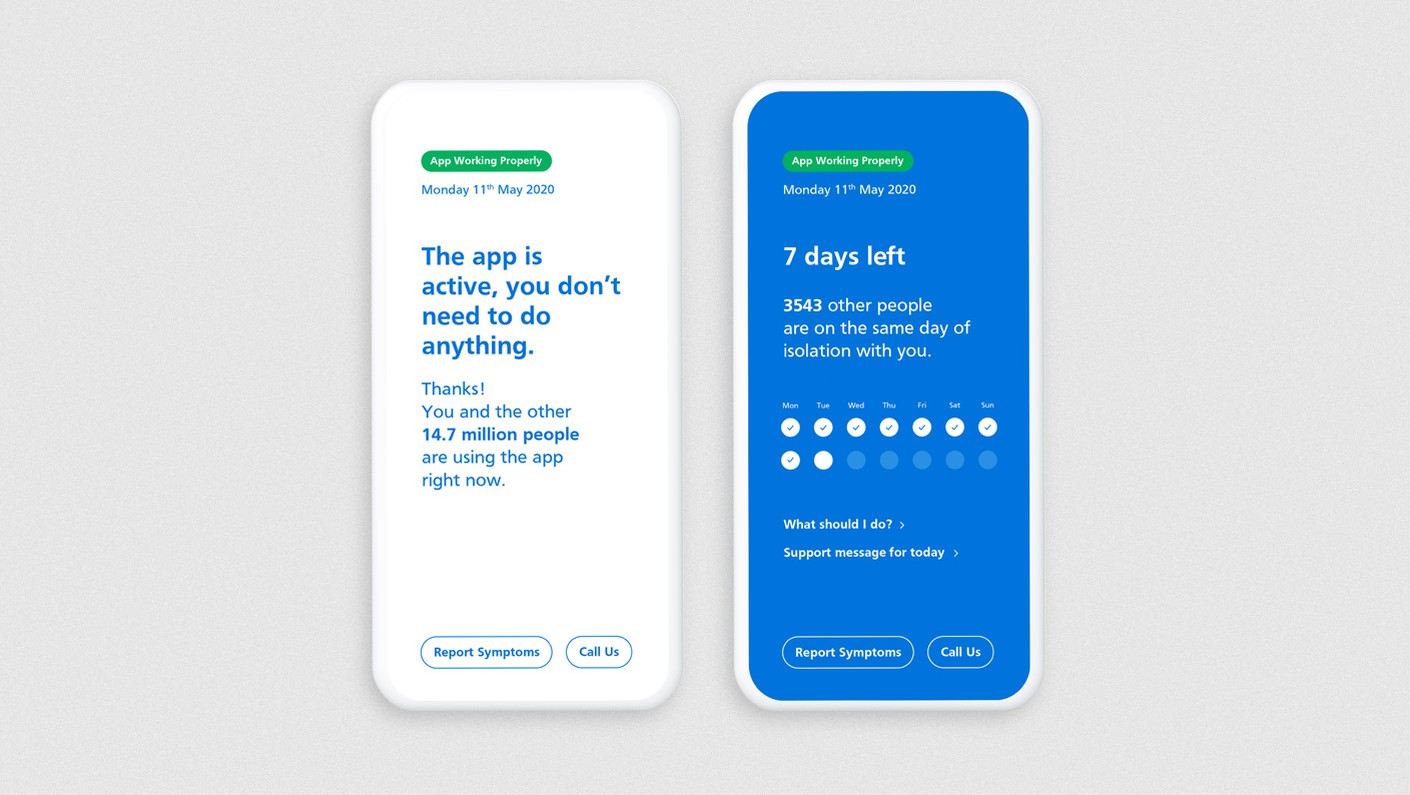 Passive & Active mode

Many people feel scared and uncertain about leaving the lockdown and venturing back out into the world.

This app shouldn't create more anxiety or overwhelm you with stats about your interactions. It should be something you notice as little as possible and only interact with when needed.

We propose two clear modes of operation:

Passive
You literally need to do nothing, just keep the app open in the background.

Active
You will need to do something like report symptoms, await result or observe self isolation guidelines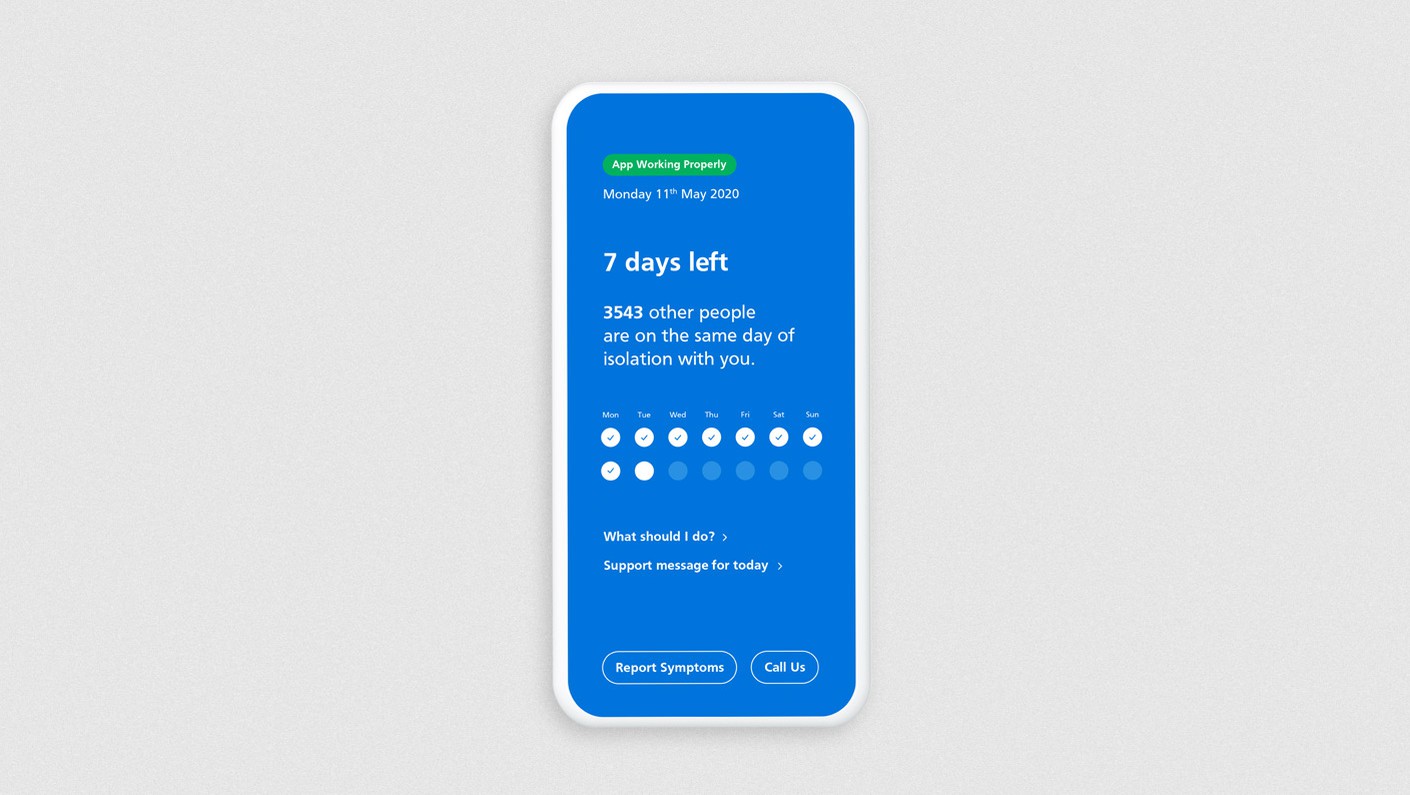 Isolation mode

Once you've started self isolation we think you'll want to constantly check the app until it's over.

The app will clearly show where you are on your journey, because it can be difficult to remember how many days have passed.

It will make you feel part of a community by showing how many other people started isolating on the same day as you.
Support messages

Self isolation is not easy and to help you are rewarded by a series of motivational messages from special people.

The messages help reinforce the importance of your contribution to society by using the app.

They are accessible on each day of isolation and cannot be viewed elsewhere.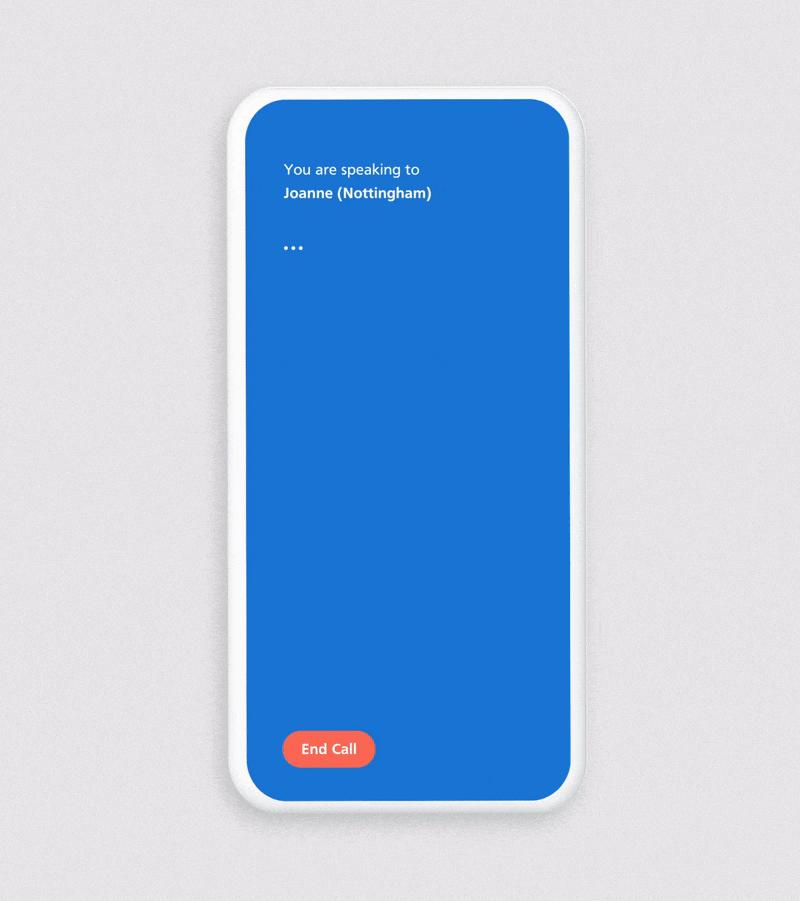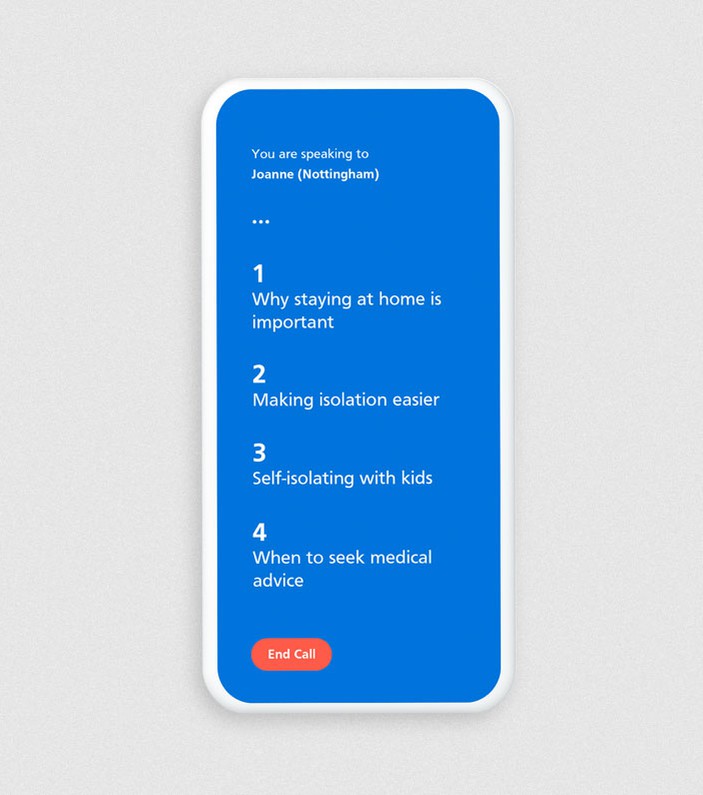 Live call summaries

Calls to doctors can be made through the app.

You might be feeling surprised and anxious if they ask you to self isolate, and there will be a lot of unfamiliar information to take in.

While you are speaking to someone through the app, bullet points of key information from the call will appear on the screen - a little like a subtitle in a movie.

You can then go back later and delve deeper into the highlights of that call as you gather what you need to isolate.

It's as if all the important notes from the call have been taken for you.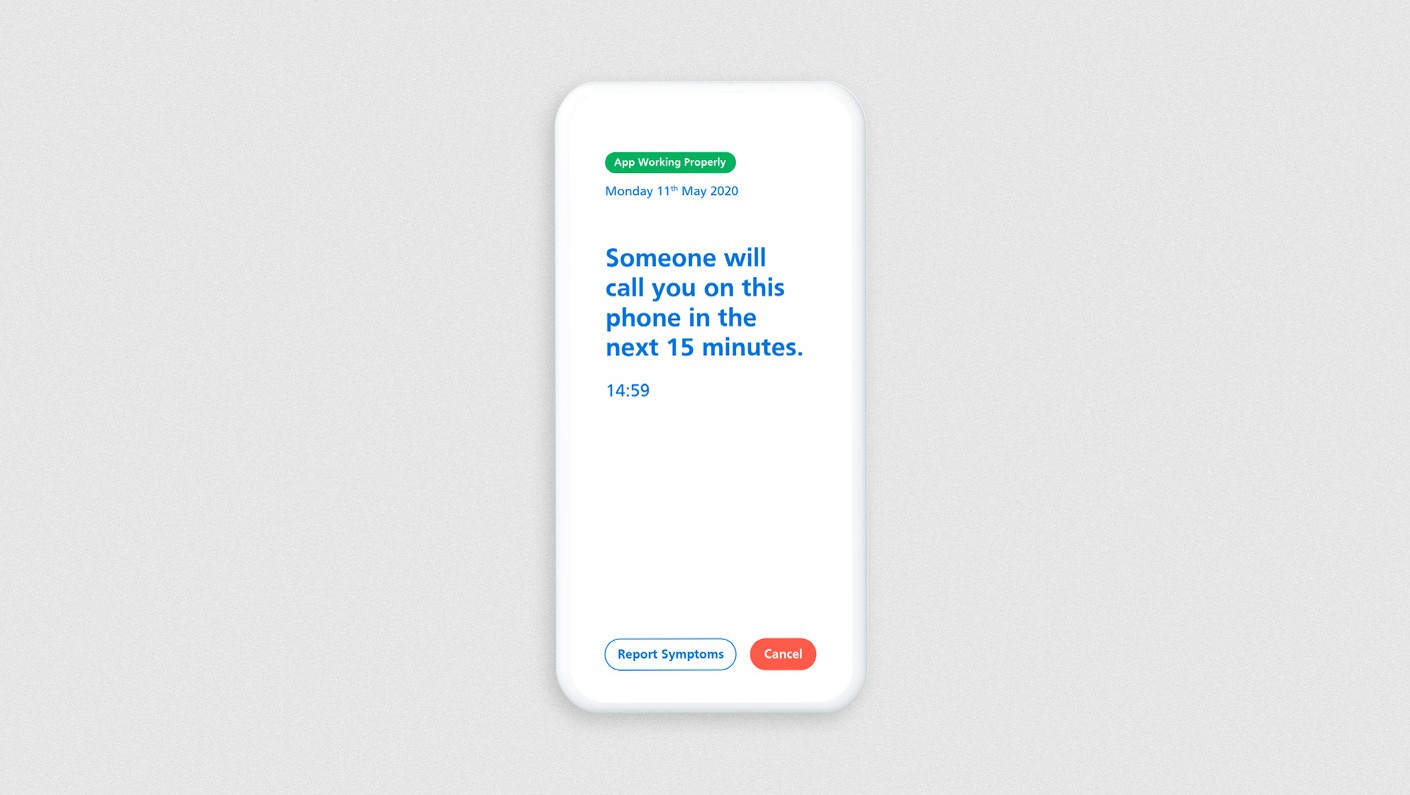 Call back

The app will always give you an option to talk to someone. Rather than waiting on hold, you can request a call back within a time-frame.

To keep things private this could happen through the app, avoiding the need to request a phone number.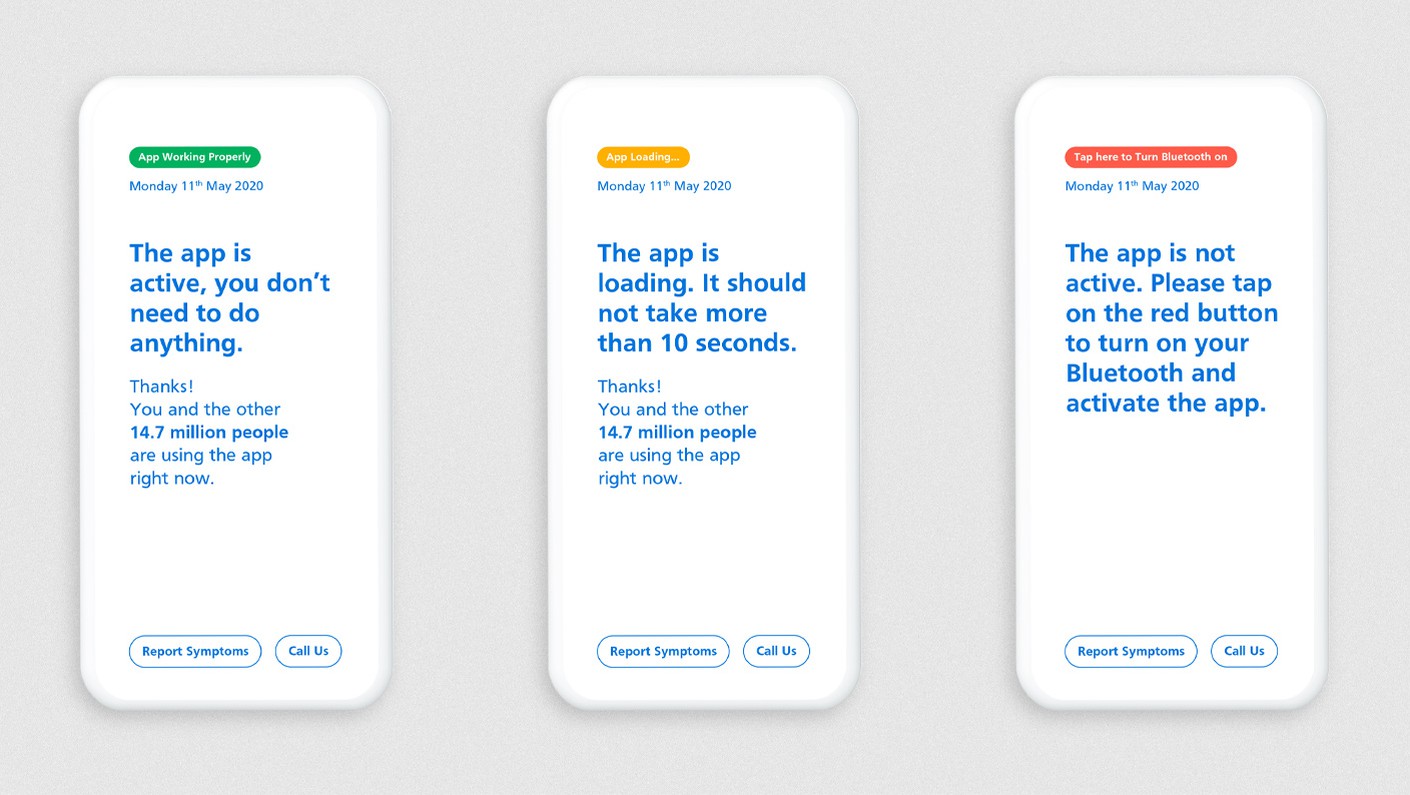 Reliability

You need to trust that the app is actually efficient and working properly so there should be a clear acknowledgement that everything is working properly.

Live information such as the date and number of active participants help reinforce that the app is working.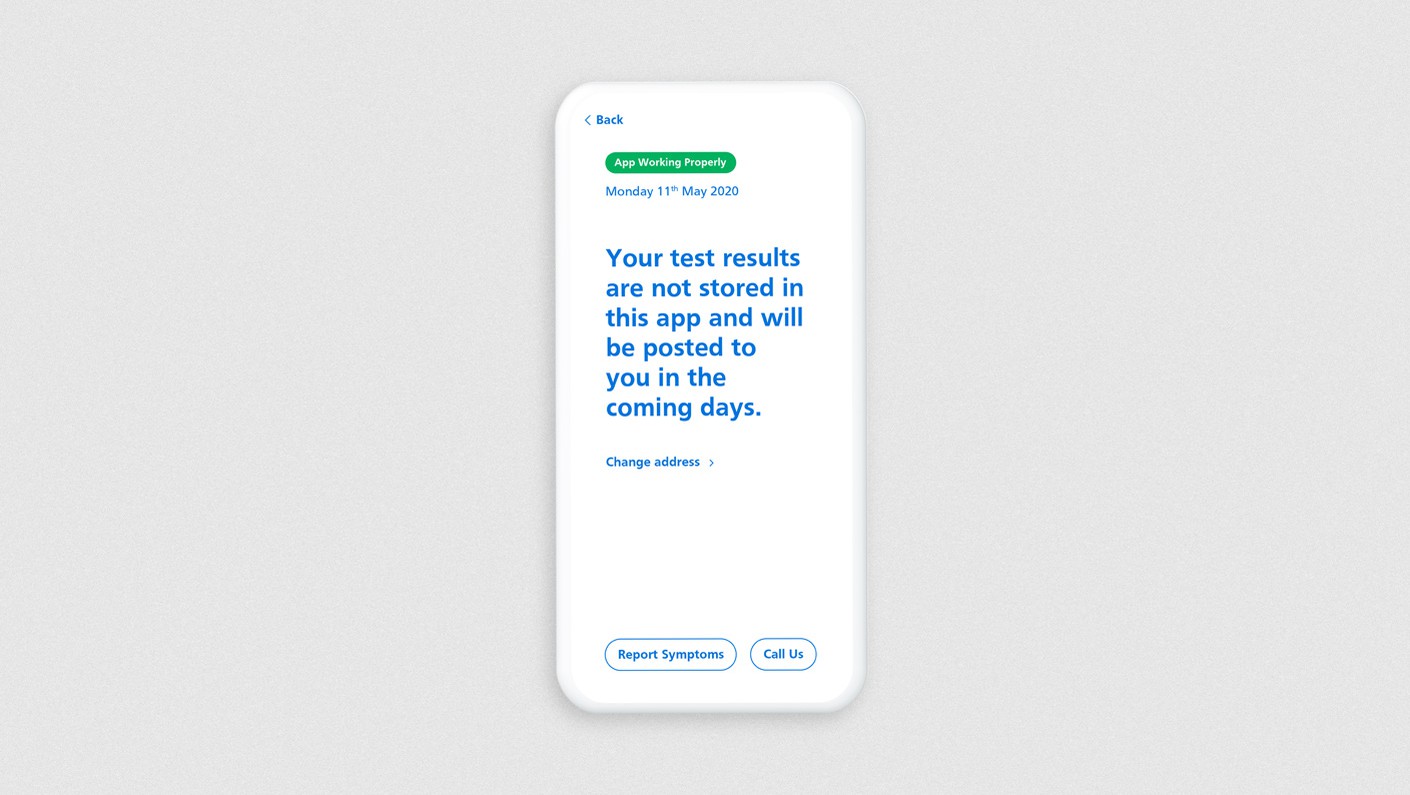 Postal results

Negative test results can be delivered digitally through the app, but positive test results should be delivered in a phone call with a human.

The results should not be stored in the app to maintain privacy, but instead should be posted to you.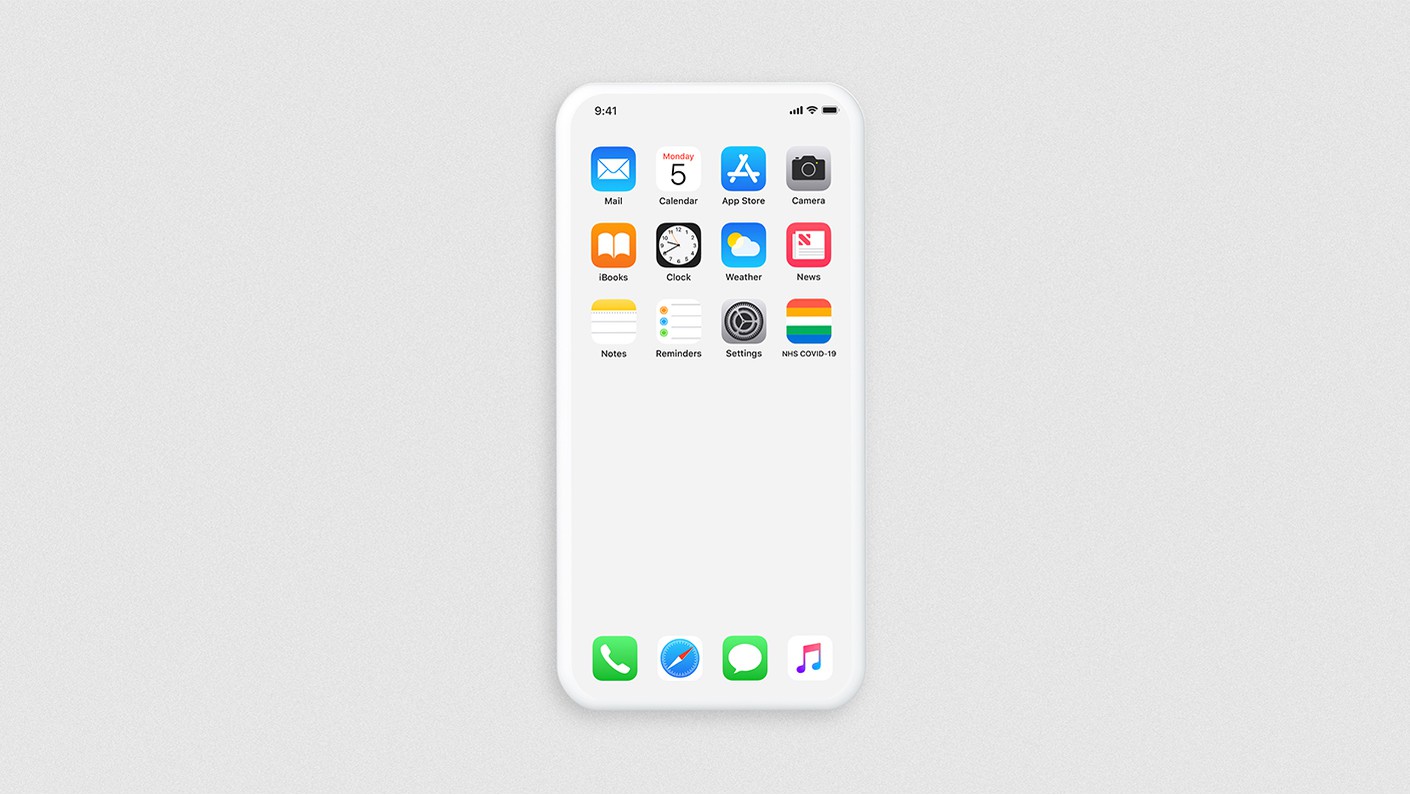 Calm app icon

The app will live on our phones for many months to come so we imagined a calm icon designed to live for a long time in our devices.